Poseidon Offshore section
Hydrogen readiness of Poseidon Offshore section (Greece-Italy) 
Considering the new European energy strategy and the prominent role that hydrogen will play in energy transition, IGI Poseidon is working to implement a full hydrogen transportability across the Poseidon Offshore Pipeline.
In this context, IGI Poseidon performed several studies forecasting a significant increase in the next decades of renewable hydrogen availability for export from Greece and Cyprus to Europe.
The project will
strengthen the existing European infrastructure system, in terms of hydrogen transmission capacity and diversification of access to renewable sources;
reduce energy infrastructures bottlenecks and enable access to new green energy sources, thus fostering a fully interconnected SEE market;
create a strategic energy backbone able to ensure security and diversification of supply via a new stable and efficient energy transmission line, connecting generation sites in Southern Europe with demand sites in Central Europe;
in line with Europe's energy transition strategy, support the decarbonization path within the Southeast European region by promoting the production and consumption of renewable energy;
The Project, thanks to its key geographical positioning, will link HI West and HI East Hydrogen Corridors, favoring integration of new renewable energy sources and playing a key role in achieving European energy supply diversification targets, in line with the latest provisions of PCI requirements.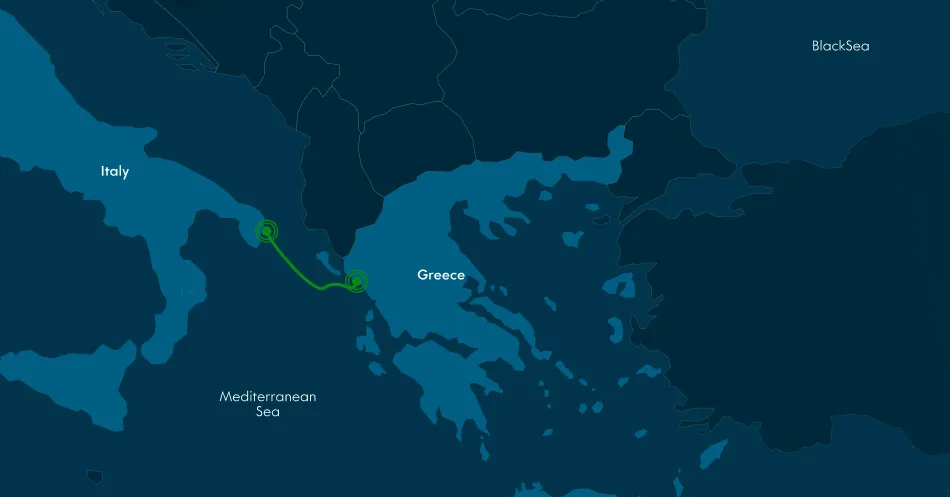 Levante Hydrogen Interconnection
Development of Levante Hydrogen Interconnection Project  
Levante is an energy interconnector, consisting of an onshore pipeline that will directly interconnect the local hydrogen potential production sources to the European energy system.
The Project consists of 2 sections with the following interconnection points:  
First section consists of a 760 km onshore pipeline from Thesprotia region (Florovouni) to the Greek-Turkish border in Kipi.
Second section originates from Nea Messimvria (Greece) to Petrich (Bulgaria), allowing the transportation of hydrogen in the Balkans area and Central Europe.
The overall capacity of the pipeline will be designed up to 20 bcm/year.
Significant amount of clean energy will be unlocked in Southeast Europe (SEE), Greece is expected to become one of the main energy hubs for renewable energy production and exports to neighboring countries. In this framework, Levante Project will collect new hydrogen volumes and establish as a pivotal cross-border energy backbone, thanks to the possible integrations with national gas networks and future hydrogen infrastructures.